This is a guest post from Design Team member Jean Manis.
Fellow team member Shannon Dombkowski recently asked via Twitter, "Any cute kits with a vintage knitting or sewing theme?" to use in a layout of her daughter in a sweater made by her grandmother. I tweeted some suggestions, and, as is a common phenomenon, once you become aware of something, you begin to see it everywhere.
Suddenly I was seeing digital kits, paper products and fabulous layouts focused on knitting, crochet, and other needle crafts. The craft theme has been popular for awhile, and it ties in nicely with the craft of scrapbooking. It's no surprise that there are a lot of product choices.
Many of the products I discovered do have a vintage theme, and almost all include the color pink. The choices are so cute, you may want to use the products on layouts unrelated to scrapping needle arts. The layouts I found in the galleries were surprisingly varied and explored the theme from a number of angles. One commonality was their use of color.
Digital Products
My Other Loves by Traci Reed and Heather Roselli
Collaborative kit features papers and elements suited for scrapping handcrafted items including sewing, knitting and crochet.
Granny's Sewing Basket by Kitschy Digitals
Photo-realistic sewing tools to embellish sewing-themed layouts.
Notions Pastel & Co by Jen Allyson
Jen Allyson offers several versions of her "Notions" scrapbooking elements including those in this full kit that also includes a variety of papers.
Sew, Mama, Sew! Collab Boutique Cute Doll With Thaty Borges by Boutique Cute Doll
Kit includes papers, elements, and an alpha to scrap a wide variety of needle arts.
Kraft Sew kit by Ju Kneipp Designs
Focused on sewing, this kit includes papers and a wide variety of elements such as lace, crochet, frames, and spools.
Pins 'n Needles by Kate Hadfield
Whimsical kit of hand-drawn elements.
Material Girl by Cosmo Cricket
Digital version of Cosmo Cricket's paper version of the same name. Sold separately, element and paper kits are available.
Sew Crafty by Hero Arts
Digital kit of sewing-themed stamps and brushes (abr and png formats).
Paper Products
Modern Homemaker by October Afternoon
This cheerful, retro collection of papers, stickers, chipboard, stamps, alpha, cards and mini album are suitable for a variety of layouts focused on the "domestic arts" including sewing.
Sew Cute Collection by My Little Shoebox
Just-released collection includes papers, acrylic stamp set, stickers and die cuts with a focus on sewing.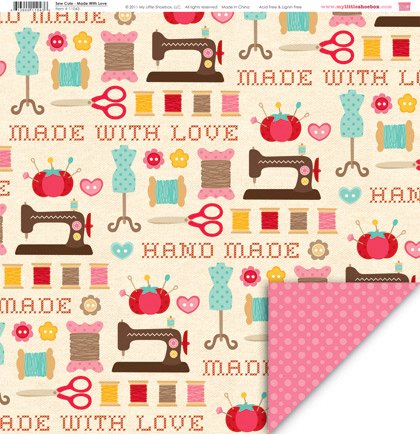 Sew Stylish + Simply Handmade by Hero Arts
Sewing-themed stamp sets.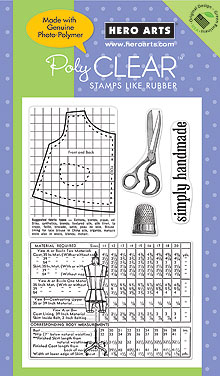 Sewing Room by Hambly Studios
Brightly-colored sticker sheet includes elements from embroidery, cross-stitch, dressmaking, knitting and sewing.
Material Girl by Cosmo Cricket
Fanciful collection of papers, chipboard, and stickers focused on sewing. Also available in digital format.
Digital Layouts
threads by AmberR
knitting by Emmy
unfinished-itis by Carolee
Fashion Dreams by mama_pajama
Handarbeiten by thunderdragon
Paper Layouts
handmade by chicscrapper29
She's Crafty by SIFullerton
heart hat by mellypea
"I loves it!" by kellicrowe
Cozy Scarves by Davinie
Tip for Scrapbooking the Needle Arts
Many of the scrapbooking products for scrapping the needle arts are element-heavy. It's easy to get caught up in embellishing your page with them. Use restraint and let your subject–the process of making the handicraft, the recipient wearing the handicraft, or the products use to make it–shine through on your layout.