In 2010 I ran a Simple Tip Saturday series here at Simple Scrapper. (I can't believe that was four years ago!) I'm excited to bring back the series for a new run in 2014. Here's the premise:
Simple Tip Saturdays are all about giving easy ideas for you to grab and run.
These first few posts will feature some of the tools I use every day to simplify my life, but I imagine we'll go into other topics as well. My goal is to leave you with a single nugget of knowledge you can use right away!
This week I want to share the tool I use to make blog reading super easy and even more enjoyable: Feedly.
Some of you may already know of and even be using Feedly, but I expect just as many do not. Feedly is a service that allows you to aggregate all of your favorite blogs in one place, using RSS feeds. There is the main cloud version as well as apps for iOS and Android.
Feedly keeps track of which posts you've read and helps you share them with others. There's even several views, depending on how you like to browse. For example, here's what you would see if you subscribed to Simple Scrapper and chose the magazine-style view.
The organization features of Feedly allow me to group blogs by topic and even mark certain ones as favorites. Here's how I have my favorite blogs organized in Feedly:
Do you see the little +Add Content button in the top right? With just one click you can subscribe to your favorite blogs. You can also look for "Follow on Feedly" buttons, like this one for Simple Scrapper.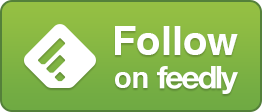 Note: While I personally prefer Feedly, you can also follow Simple Scrapper with Bloglovin. The two services are quite similar.